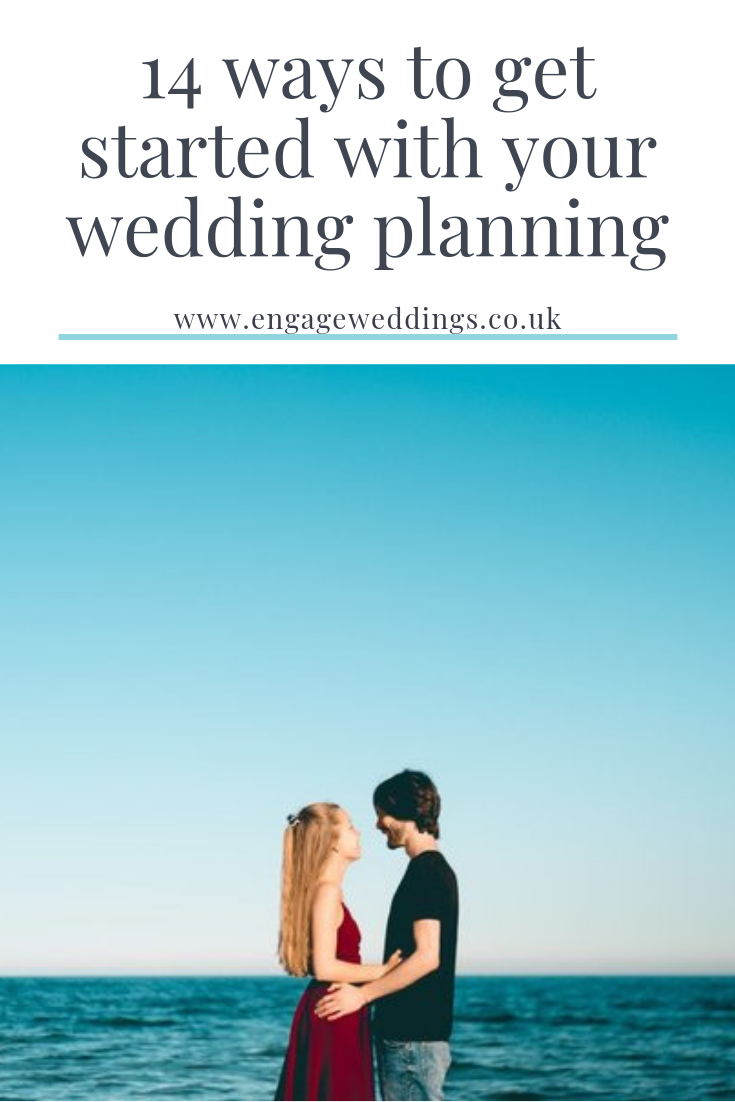 I got engaged to Nathan on Bournemouth beach in May this year. I am currently studying for an events degree and have always enjoyed organising, so I am very excited about planning our wedding! I love planning events from the paperwork and research right down to the finer decoration details.
As a bride to be myself I wanted to share my top tips to help you get started in each area of your wedding planning.
1. Communicate with your partner
It's really important to talk with your fiancé about what kind of day you want, it may sound obvious but it's important that you both talk about what you would like and what is important to both of you.
Pinterest has become a widely used way of getting ideas for anything from cooking to interior design. My friend introduced me to it a while before I got engaged and I was hooked! I highly recommend setting up a wedding Pinterest board, it's a great place to go for everything from photography ideas to décor. I have been inspired with lots of ideas about photos to have with my bridesmaids and DIY decorations.
2. Create a budget
Another important factor is having a budget, this will vary for every wedding. For us, we are very lucky to have parents who are very generous and willing to help us, and family and friends who are willing to help us out too. Remember to talk with your fiancé and family about what kind of budget you are going to have and who is paying for what. My top tip is do your research for everything and source the most reasonable price dependent on your budget. Make sure you factor in some money for last minute or unexpected costs, you never know what might come up.
3. Write your guest list
This is always the hardest bit and one of the first things you have to do when planning a wedding. The guest list will determine a lot of things such as venue, catering and number of invitations. This has been the hardest part so far for us, as there were a lot of people we would have loved to invite but couldn't necessarily cater for. We decided to just have an evening buffet so that we could have everyone at every part of the day and not exclude anyone. Another factor that contributed to this was the fact that a lot of people will have to travel for our wedding. One of my top tips is to sit down with your partner and your parents and make sure you don't miss anyone off the list and make sure you double check it. Remember that people will be so excited to be invited to your big day. Also if there are other people you would like to invite but don't make the first list then create a maybe list. If someone can't make it you can always invite extra people later. If you are able to invite more people later in the day as well, a lot of people would love to be invited even just for the evening party.
4. Visit lots of venues
It's really exciting to visit venues to help picture how your big day is going to look and what atmosphere the venue is going to create. Look at a wide range of venues but make sure they can accommodate the number of guests you want. My biggest piece of advice is to make sure you go for something that you and your fiancé are excited by. We saw two venues together and one with my parents, but I would advise where possible always go together. Another top tip is make sure you have done your research beforehand so you can ask all the questions you need to make a decision. To get some ideas read the '24 questions you need to ask your wedding venue' blog post. Originally we discarded the venue we booked because it was going to be too expensive but after changing things and asking questions it meant it would be cheaper.
5. Chat to your family and friends
Family and friends are great to go to when you start out with planning! Not only do they know you both well but they are going to help you and support you throughout the planning process. They might have some great ideas or have been to a wedding recently and be able to give you some helpful tips. You've probably experienced some of this already. I have loved the fact that people are so excited and want to get involved in any way possible. You never know what hidden talents the people closest to you have, or the talents you know they have. So whether it's a big or a small job, your friends and family will love getting involved. I can personally say for us this has been a huge help, so many people have offered to help and for us that makes it so special.
6. Choose your bridal party
To all the brides out there who might be stressing over this part, I know it's hard. My original bridesmaid list was 12 and this didn't include younger bridesmaids/flower girls. It was really hard to get it down. My top tip for this is to keep it to really close/best friends and family members. I know this is generic advice you've probably already heard but it's the best I've had. You need to decide on the number of bridesmaids you want or can afford, personally I don't think there is a perfect number. I have chosen 4 bridesmaids, 1 junior bridesmaid and 2 flower girls. My 4 bridesmaids are my best friends and as cliché as it sounds I don't know what I'd do without them so having them as my bridesmaids was a must. They have each been such a huge part of my life despite the different lengths of time I have known them for. Despite the fact my bridesmaids are in different places, I am not worried about it. Some of you might want to go for friends who live nearby so they can help with preparations but for me I know mine can help from a distance. When it comes to younger bridesmaids and flower girls they tend to be family, but not always. My top tip for younger ones is to get their outfits as late as possible as they will grow (this goes for page boys as well)!
For all you grooms, I haven't forgotten about you. Some of you may struggle with deciding on who to have as groomsmen, their role other than supporting you is to make sure the logistics of the service/day go well and everyone gets a seat. Similarly to bridesmaids there is no limit or perfect number, it just depends on what you want. The tricky thing for you is deciding on who you will choose for your best man. I know this can be difficult as everyone knows the best man is responsible for a lot of things like the stag party and a speech on the wedding day. Make sure you choose someone who you trust and who is organised.
There are so many great ways to ask people to be part of your bridal party, and my favourite part of this stage was deciding how I would ask my bridesmaids and flower girls. There are so many cute gift ideas from personalised bears for younger ones to gift boxes full of helpful things for maids of honour/best men. Personally, I love personal touches so I made a card for each of my girls. On the front was a photo of me and the particular bridesmaid and then "will you be my bridesmaid." Inside I wrote a personal message about why I wanted them to say yes and what they meant to me.
7. Choose your outfit
You need to think about what you will wear. My top tip is to wear something that makes you feel amazing. I feel that brides enjoy this part more than grooms, but it can be a fun task for both of you. I loved going shopping with my mum, my soon to be mother in law, one of my bridesmaids and one of my friends. I advise making a day of it, it was so lovely to get to spend some quality time together. Try on loads of styles and see what you like the best. Grooms, pick something that you feel comfortable in too. You don't have to go for the traditional black suit if you don't want too, have a look around.
8. Arrange your photographer and videographer.
Anyone who knows me will know I love photos and am a little obsessed with photo frames, so this section is super important for me. The most important thing is that you feel comfortable around the photographer or videographer. You want your photos and video to capture natural moments as well as more posed ones. If the option is there to have some engagement photos, then go for it. We did and it was so much fun! Thankfully one of our best friends is a very good photographer and we love the engagement photos he took as a gift. It seemed perfect to ask him to take our wedding photos. Wedding videos are probably an over looked detail and people I've spoken to have regretted not getting one so do consider it. Look into different people depending on what style you want. We are using the Handmade Film Company, who are a film your own wedding video company. Their work is amazing and they are very friendly.
9. Book your catering
There are so many unique options now when it comes to catering from BBQs to buffets there is so much choice. My tip would be to think about the time of day you are planning to eat. Are you are having a sit down meal and then an evening buffet or just one of them? For us we are just having an evening buffet due to our number of guests and not wanting to leave anyone out of any part of the celebrations. I would recommend looking at all the options your chosen venue gives you and also whether you are able to do your own food. Take into account your guests and also what you and your fiancé like (this is your big day after all!).
10. Decide on a wedding cake
Another important feature of the day is the cake. I mean, who doesn't love cake! With so many unique ideas and decoration there is so much choice. One of the best pieces of advice we have had is to have a pre-cut cake to give to people if they want cake on the evening, which is a great idea! There are so many places to go to look for inspiration. I am really looking forward to going to try some different cake flavours at some point soon. If you can, make an appointment with a shop or cake maker to see what flavours you like. This is also a good place to sound out the ideas you have for your cake and see if they are possible. It seems obvious but when looking at cakes a lot of people will go for decoration that ties in with their theme.
11. Choose your entertainment
Whether you are having an afternoon reception, an evening reception or both I am sure you want something to keep your guests entertained! Like most things when planning a wedding there are a lot of choices. You may want to go with the classic DJ/disco or a live band or maybe something more adventurous like a ceilidh. There is something out there to suit everyone. I would say pick something that you are going to enjoy and will suit your guests as well. You can always have a combination of different things and fit them together. My key advice is to do lots of research. You want something that is going to add more enjoyment and memories to the day.
12. Decide on decorations
We had so much fun choosing our colour scheme and looking at all the different decoration options! Whether you go for a specific theme like vintage or just pick two key colours, it is good to have a starting point to help link everything together, from the cake to the bridesmaid dresses. This will also help you when deciding on what decorations you want. There are so many different ways to decorate wedding venues now and so many ways of doing it. I've mentioned before using Pinterest, another great place to go for ideas is a wedding magazine. Maybe even ask to see what has been done in your venue before. There are also companies that hire out specific items such as fairy lights and other decor you may need. If you are able to, why not give DIY decorations a go, I am looking forward to doing this with my friends and really getting stuck into it! I highly recommend this if you don't have a huge budget.
13. Decide on wedding stationery
The biggest part of stationery is your invites, and this is a key part of the wedding as it's how you ask people to come! This is the point when other people start to get very excited about the big day too. With invites, my advice is keep it simple. Stick with something that links in with the theme or destination of your wedding. Again I would advise you to do some research in your area and get some quotes. If you don't know what you want exactly ask to see some of their previous designs or look on their website. Some of you may choose to do save the dates, these are often two simple colours or maybe a photo. Last year I received a save the date from a close friend which was a photo from their engagement photo shoot and I still have it now! Remember people do tend to keep save the dates and invites as a memory of the day. Obviously there are other stationery items such as table plans, place cards and orders of service/ order of the day. Again my top tip would be to keep a continuous theme in the design of these. For those of you who are creative, why not try making your own. It is such a fun way to get people involved. We are very much looking forward to getting our uni friends together to help us make our invites!
14. Enjoy the planning process!
The most important thing when planning your wedding is to enjoy it. Happy planning!
This blog post was written by Events student, and bride to be Sophie Hayter. To read more about Sophie's wedding planning journey – follow her personal blog.
Do you have any top tips to add? Please share them in the comments below!