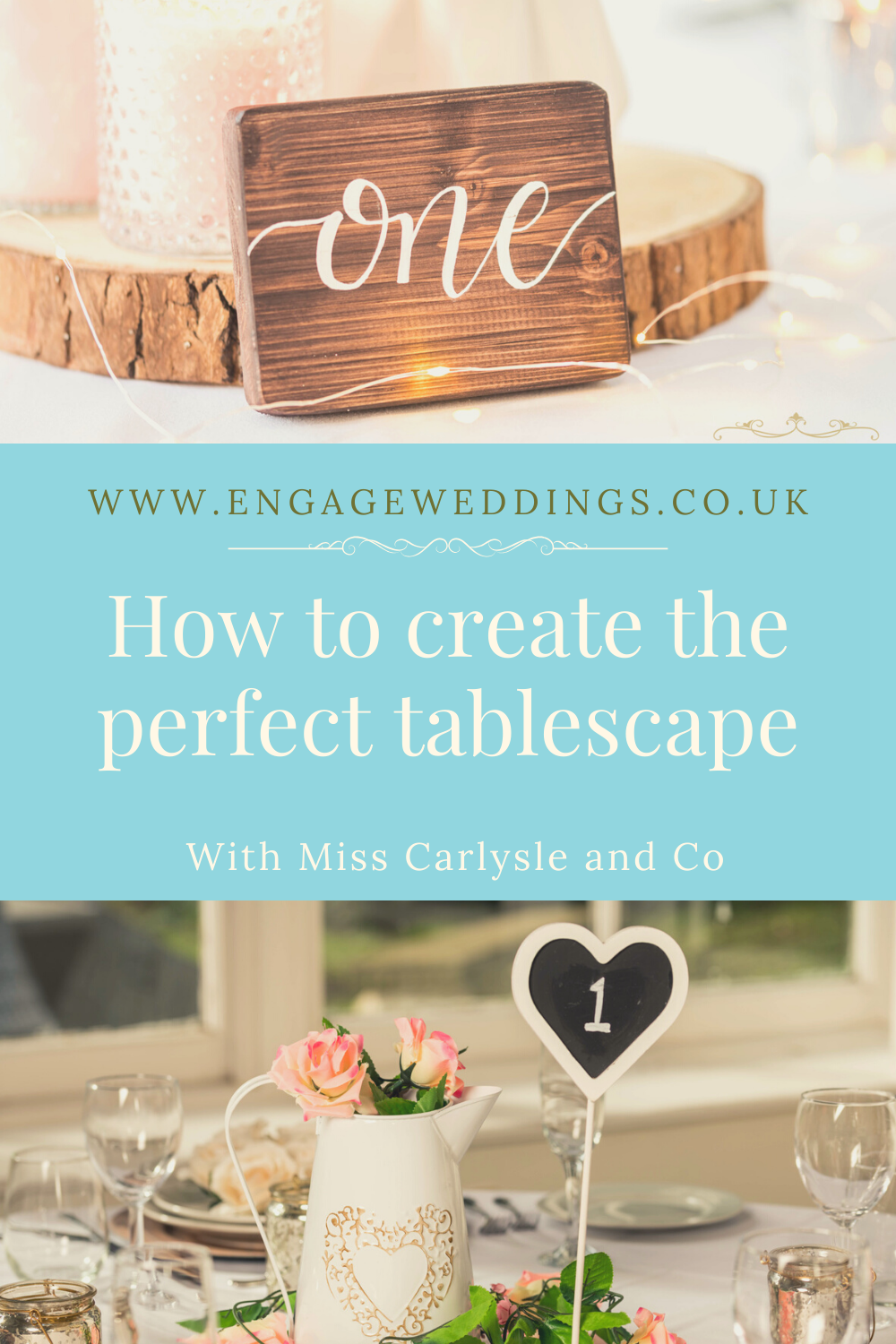 Tablescaping can sound like a scary thing to consider when it comes to planning your wedding day, but it is actually very simple if you break it down into manageable steps. Beth from Miss Carlysle and Co is joining us today to bring you 5 easy steps to create the perfect tablescape!
Inspiration Board
When putting together your wedding vision, what style you are going for, research is key and consistency of ideas, this can link with the colour palette and style you are going for, you don't want to have some rustic wedding signage and then elegant lanterns as centrepieces.
Choose a colour palette, such as blush pink, pastel blue, whatever colour you decide to go for, make sure that you keep it consistent through your styling. The inspiration board will bring all of your ideas together.
Focus Point
Keep your styling practical, consider the height of your centrepieces, are they low or high enough that you guests can talk to each other rather than having items in the way of their conversation. Having a cluster of your centrepieces can be more practical, it means that there is more space on the table and that the centrepieces aren't taking over.
If you are struggling with choosing the ideas, you can ask your florist or stylist what will work best, they can provide you with the best advice!
Tableware
When it comes to your tableware you have to consider what your venue already has, what can they potentially offer you in regards to cutlery, glasses, plates etc, does this suit the style you are going for or will you need to hire in other items.
Ensure that the table legs are disguised with linen and consider elements such as having charger plates, linen napkins, statement glassware and stationery to complete the overall look.
Venue Styling
What type of venue are you looking for, are you going for a barn, village hall, manor house, whatever style venue you are going for, means that it then depends on what venue styling you will decide to do.
Ask the event co-ordinator/ wedding planner, what truly works with the space around you, how can you truly make the room come alive, what works best e.g. are the ceilings high, do the walls need some more light. Create the vision that you truly want.
Lighting
How does the room seem in the day, have you considered the lighting for the evening/ night, especially if you are getting married in autumn/ winter as the days are shorter. then you will need to add in extra lights such as fairy lights or candles or even lanterns, finding out what your venue will be like in the evening is important. You want everyone to see the beauty of the room, rather than the room seeming dull and boring.
Tablescapes are a wonderful talking point for guests, and are great to see in your wedding photos!
Did you pick up any tips from Beth? What would be your perfect table scape?
The fantastic suppliers
Gnbri Photography www.gnbri.co.uk, IG: @gnbri_photo
Saras Events Flowers www.sarasevents.co.uk, IG: @saras.events.flowers
Miss Carlysle and Co – Wedding and Event Planner www.misscarlysleandco.com, IG: @misscarlysleandco_events
Clare Gray Designs – Stationery www.claregraydesigns.com, IG: @claregray_designs
Woodland Manor Hotel www.woodlandmanorhotel.co.uk, IG: @woodland_manor_hotel