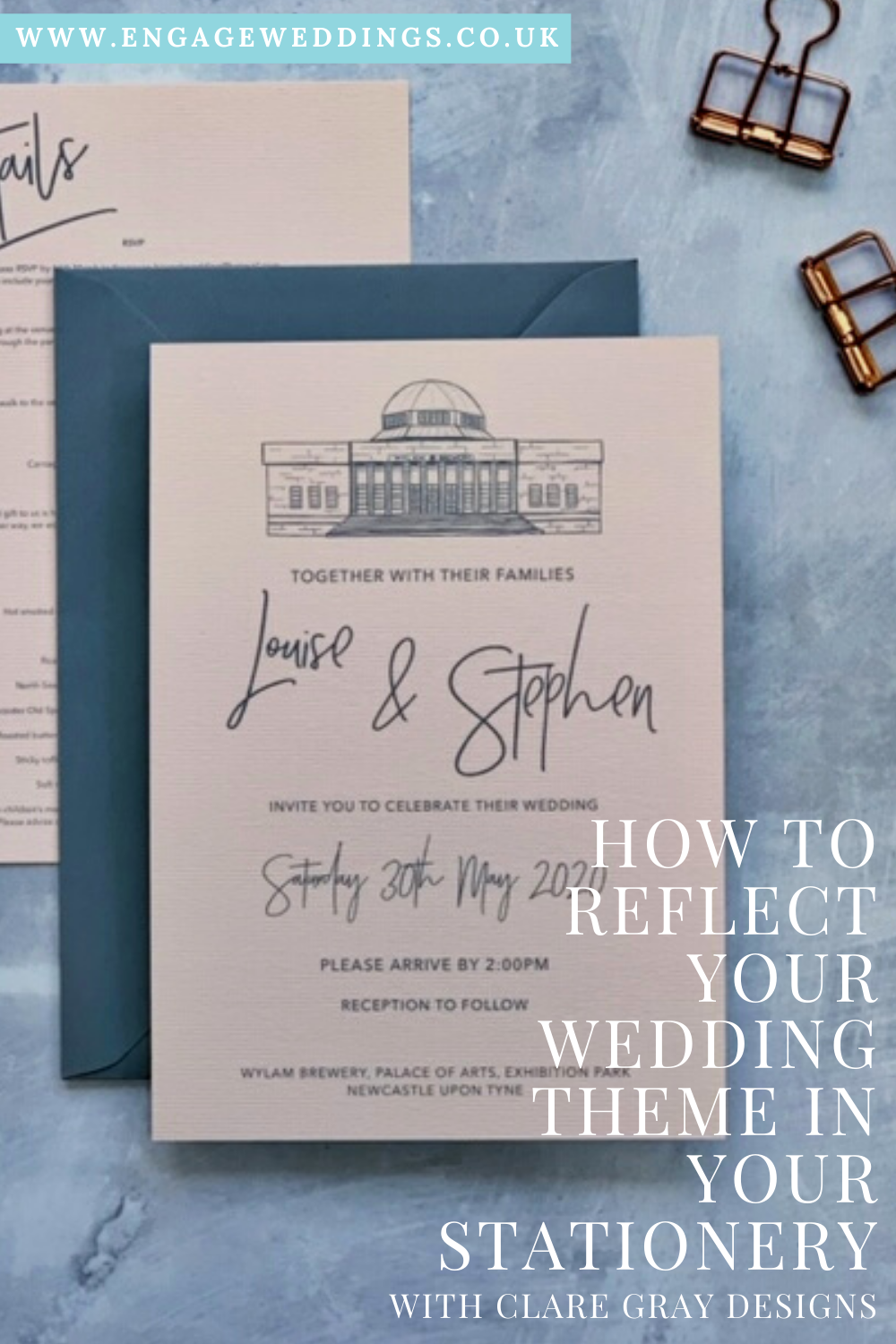 So, you have got the venue and the date booked for your wedding day, it's time to start thinking stationery! You'll want to send out a save the date or invitation in plenty of time to be sure all your friends and family can attend. But how to go about picking a theme, and an invitation style? Clare of Clare Gray Designs is here to help you get the perfect style!
Picking a theme
My top tip for picking out your wedding theme and style, would be to consider your venue before settling on a theme. Think about the colours and styles of decor at the venue, is it a totally blank slate, or does the venue itself already have a particular style and feel? Pick out complimentary colours carefully, if your venue has lavish patterned carpets and curtains, you need to be sure your chosen wedding colours won't clash!
Pinterest is a great place to start thinking about colours and styles. Check out your wedding venues website too, as they will have beautiful images of what styling and colours have worked well in that venue before.
Once you have a good idea of your wedding style and theme, you can chat to your stationery designer about reflecting this theme in all of your pretty wedding paper.
First glimpse of the theme
If you are sending out Save the Dates, this is a great opportunity to give your guests the first glimpse of what you wedding theme will be. Chat to your designer about the colours of your day, the type of venue, the feel of the day, the type of flowers you are having, anything important and personal to you both, and your designer will be able to take all of this into account when creating your stationery.
Many couples choose to reflect their wedding colours in both their bridal party attire and their wedding stationery. If your bridesmaids will all be in dusty slate blue, why not mirror this in your Save the Dates?
I have known couples pick out their colours for so many different reasons, one couple I worked with chose the stunning combination of copper and navy for their invitations to represent the groom's football team! Now I am no football fan, but the stunning hot foiled copper on navy colourboard speaks of opulence and autumn for this stunning September wedding. However you arrive at your colour scheme, your stationery designer will make it work!
Colour Palettes
Perhaps you have chosen a combination of colours for your wedding theme, pastels to reflect beautiful spring flowers, or bright bold colours for a summer festival wedding, an invitation suite is the perfect way to show off your stunning colour pallet. With the invitation, details card, rsvp card and gorgeous stationery extras such as coloured envelopes, wax seals, silk ribbons, you can create a tonal suite that picks out the pretty pastels in your bridal bouquet, reflects the rich abundance of autumn, or compliments the style and decor of your wedding venue.
Style Choices
Your wedding will have a feel to it, are you having a quintessentially British wedding in your village church followed by a marquee reception surrounded by apple blossom in springtime? Are you flying your guests to some gorgeous sunny island in the Mediterranean for summer fun? Are you celebrating your wedding at Christmas with all the magic that the holiday season brings? Is your venue particularly special to you both, perhaps you met there or have spent time there as a couple in the past? As well as your chosen wedding colours, don't forget to chat to your stationer about the details of your day and what is important to you as a couple too. We are all wedding obsessed, we love the little details that make your day unique to you, and we love to recreate that feeling with pretty paper.
Wording is Important
Don't forget to think about the wording of your invitations too, this is a great way to reflect the theme of your day. Are you having a traditional wedding with a classically elegant reception? You might like to consider using more formal wording on your wedding stationery to clue your guests in. Or maybe you are doing away with tradition all together, and holding a festival in the woods where anything goes! You can work with your stationer to reflect this in the wording of your invites. How about, "Let's party" instead of "we could like to invite you to celebrate our wedding", or, "Are you in?" instead of "Kindly RSVP to…" for your RSVP cards. Let your stationer bring your personality into your invitations so your guest can get a real feel for the day.
On the day stationery
Your wedding stationery journey doesn't have to end with your invitations. Why not continue the design elements through to your on the day stationery and signage? a welcome sign with similar colours and style to your invitations will help your guests know that they are in the right place!
Whether you opt for calligraphy place cards in matching colours to your invitation, or personalised menus in your invitation style at each place setting, your guests will notice the personal touch, and these little details and nods to your theme will really make the difference to your on the day styling
Don't forget the thank you cards
Say thank you to your guests in the same theme and style too. A beautiful thank you card with a photo of the happy couple designed in your colour pallet and style is the perfect way to thank all of your guests for coming, and for their cards, gifts and well wishes. Typically these should be sent out within three months of your wedding day, this will give you a chance to open all your cards and gifts, get back from your honeymoon, and pick out your favourite professional wedding photo for the card.
Whatever your wedding theme, with my colour customisable house collections, and my bespoke design service, you are sure to find the perfect stationery match for your day. Get in touch and let me make your stationery dreams a reality.
Clare Gray Designs | Instagram: @claregraydesigns | Facebook: @claregraydesigns1
Pinterest: @claregray_designs | E-mail: clare@claregraydesigns.com
What have you picked for your wedding stationery theme?