More than ever, neutral and pastel tones are trending the wedding scene. But what about colour?! Adding a spark of colour to your wedding day is a sure way to make your wedding stand out amongst the crowd and is a great way to personalise your big day!
Dolly Dimples Weddings gives us insight into why she chose to inspire us with colour with this beautifully styled photo shoot by Em J Photography
"Creating a wedding out of the ordinary with a fun laid back feel is where we come in. Our couples often style their weddings with personality which creates the wow factor and resembles a statement wedding. We are also strong believers and often see, interior and fashion trends filtering their way into wedding trends.
With this in mind we based our inspiration on flamboyant rainbow colours, brightly decorating our chosen space verses our love for pastels and unicorns, some real eye candy! Rainbows and unicorns are making a big appearance on social media with rainbow cakes being a big hit, We feel this is a perfect time for Dolly Dimples Weddings to shine and a real magical match! We do kitsch very well combined with ice cream colours."
Follow our guide below to see how you can bring a spark of colour to your wedding day.
The cake is the most obvious choice of ways to add colour to your special day. Even if you are keen to have a neutral wedding scheme, a brightly coloured wedding cake can stand on its own. Whether its by adding a few favourite accent colours to the cake, or by adding a whole rainbow of colours like this cake from The Cake Meister , your guests will be drawn to the statement of colour in the room.
Roll up to your reception in a colourful statement that will be sure to be remembered. Not only will your white dress pop against the newly polished hue, it will be sure to get you pics that will be wall worthy. Vintage classics in retro colours, brightly coloured sports cars, or a quirky VW van are sure to show off your personality and make it a ride you'll never forget!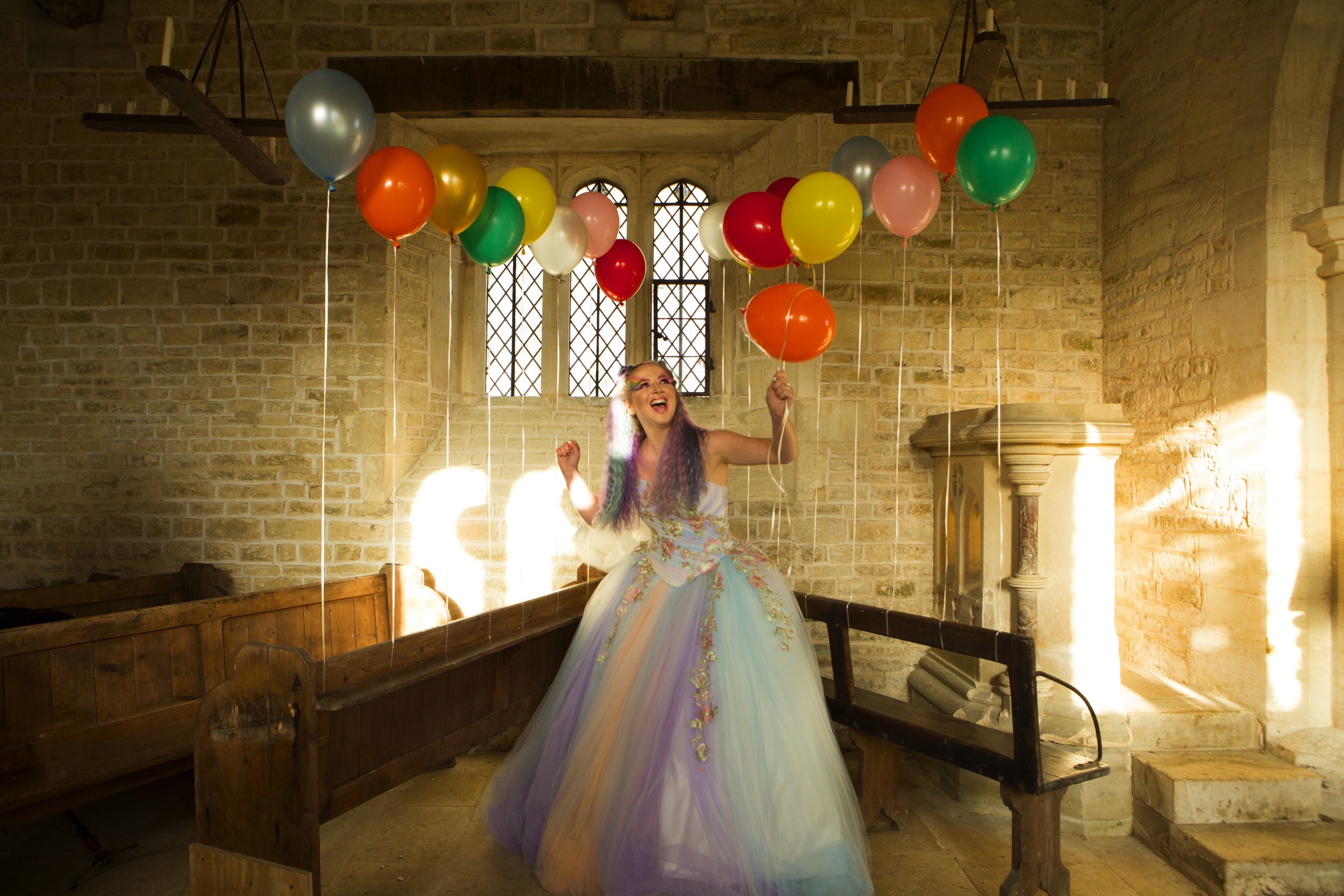 Never underestimate the beauty and class of balloons. Although they may bring to mind images of proms from our favourite American films, balloons have a new and classy place in wedding decor. Balloon Girl Milton Keynes displays balloons in all their glory, and shows how they can be used to bring a playful, whimsical touch to your decor. Tastefully displayed with colourful ribbon in a single row, balloons are a great way to create a focal point to the room. Be sure to talk to Balloon Girl about how balloons can work for you!
Stationery is the first way you communicate to your guests the feel of your wedding day- through your save the date or invitations. By using colourful stationery you are setting the tone for a day that's as fun filled and exciting as you are. Banners, bunting, and table numbers are all ways to brighten the ceremony and reception which can make any venue feel worthy of a celebration. White Cottage Weddings is a pro and knowing how your stationery can best create the image you are looking for.
Nature always has a way of bringing colour into your day. Take a walk through your favourite gardens and appreciate all the ways nature uses colour to draw our eye or to evoke emotion. Florist Tanya at Apple Blossom Flowers is an expert at bringing the best elements of greenery and florals together to create a magical romantic feeling on the day.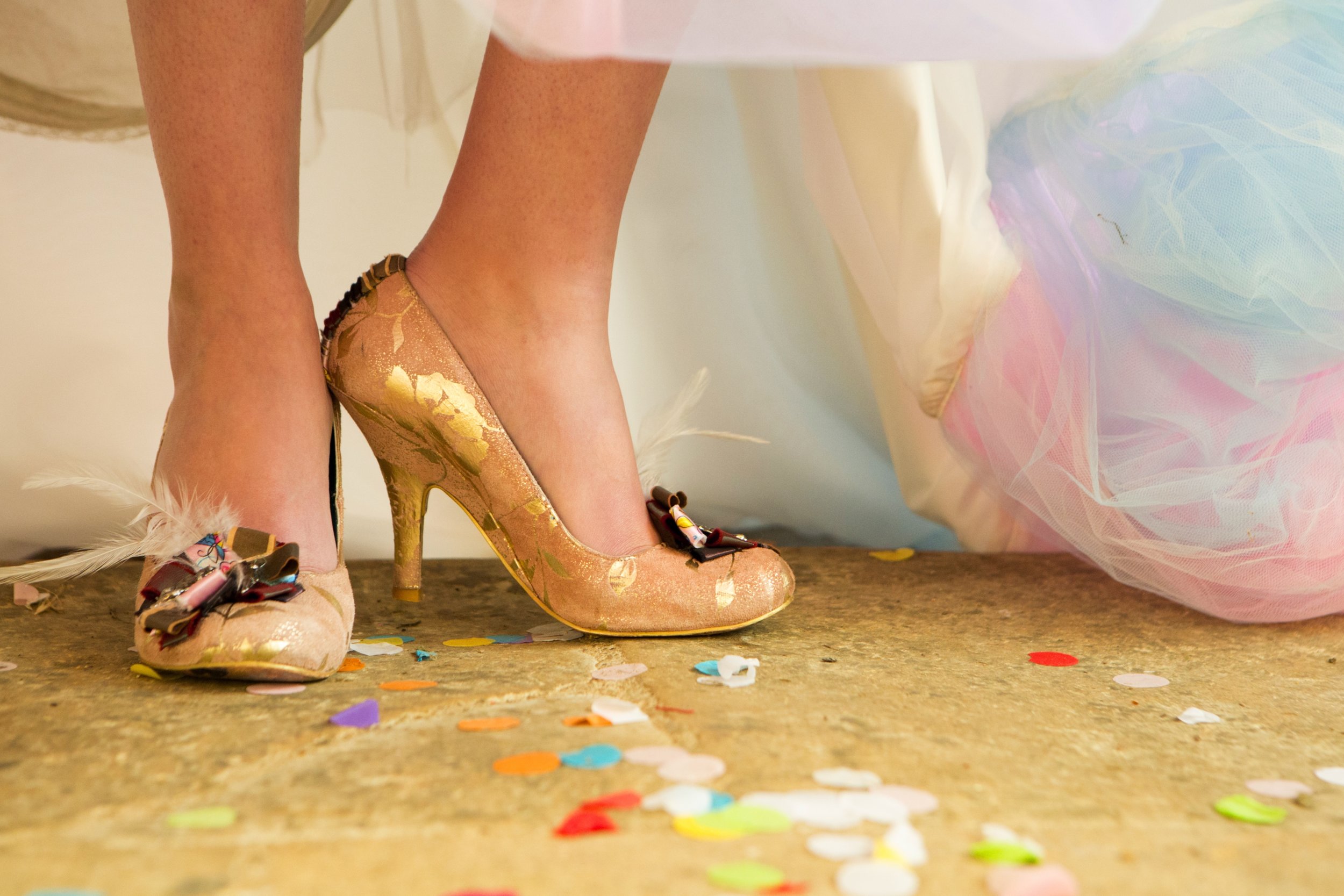 Is all this talk of colour scaring you? Are you a neutral bride through and through? Not to worry! Your wedding shoes can be the secret way to flash your true colours. After all, nothing tells you more about a girl then taking a peek into their shoe closet!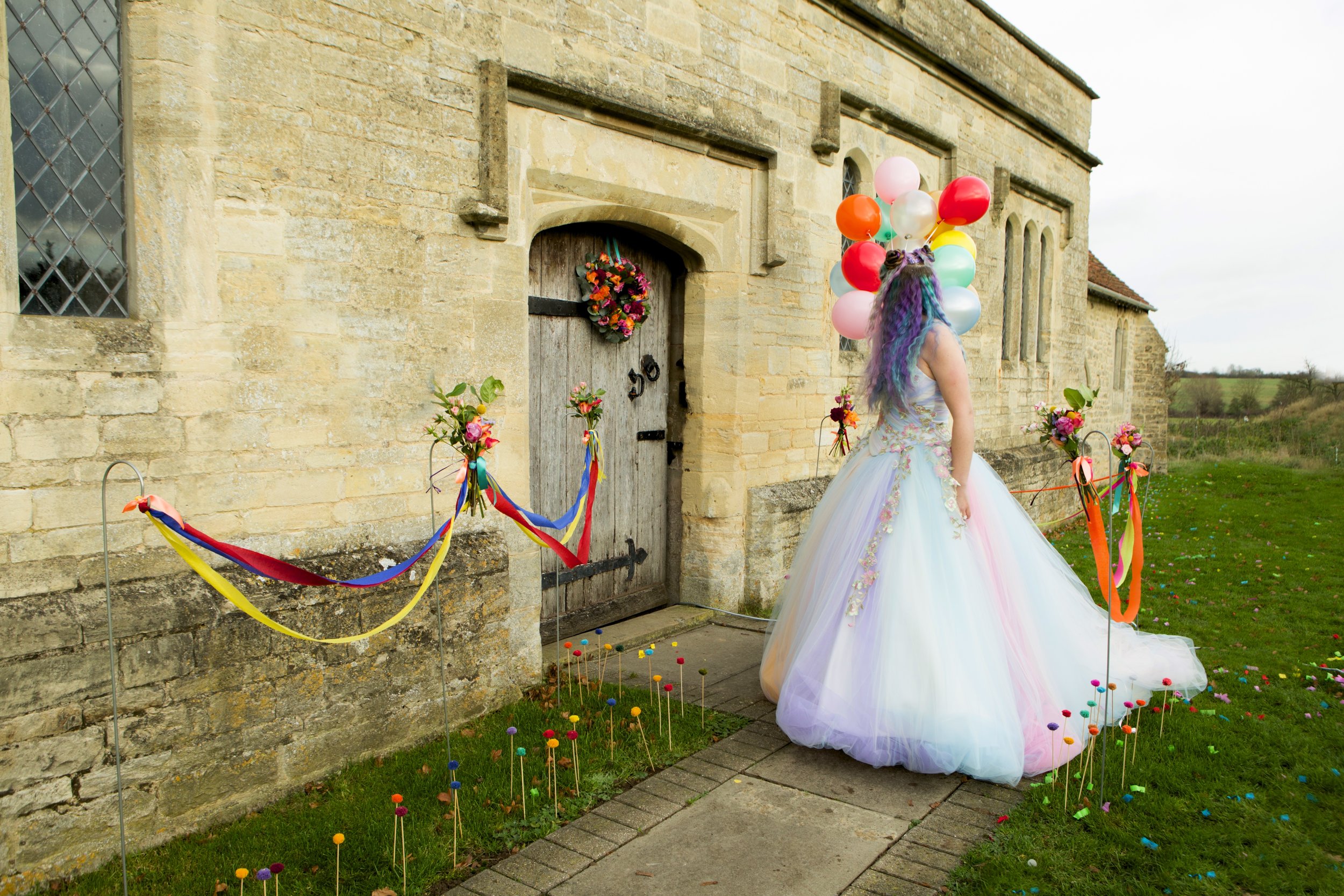 It's time to replace the burlap, lace and black and white chalkboard signs with décor that makes a statement. Colourful ribbons, balloons, brightly coloured tissue pom poms from The Wedding Spark, paper flowers from Things by Laura , and confetti are just a few of the ways you can bring your day back to life!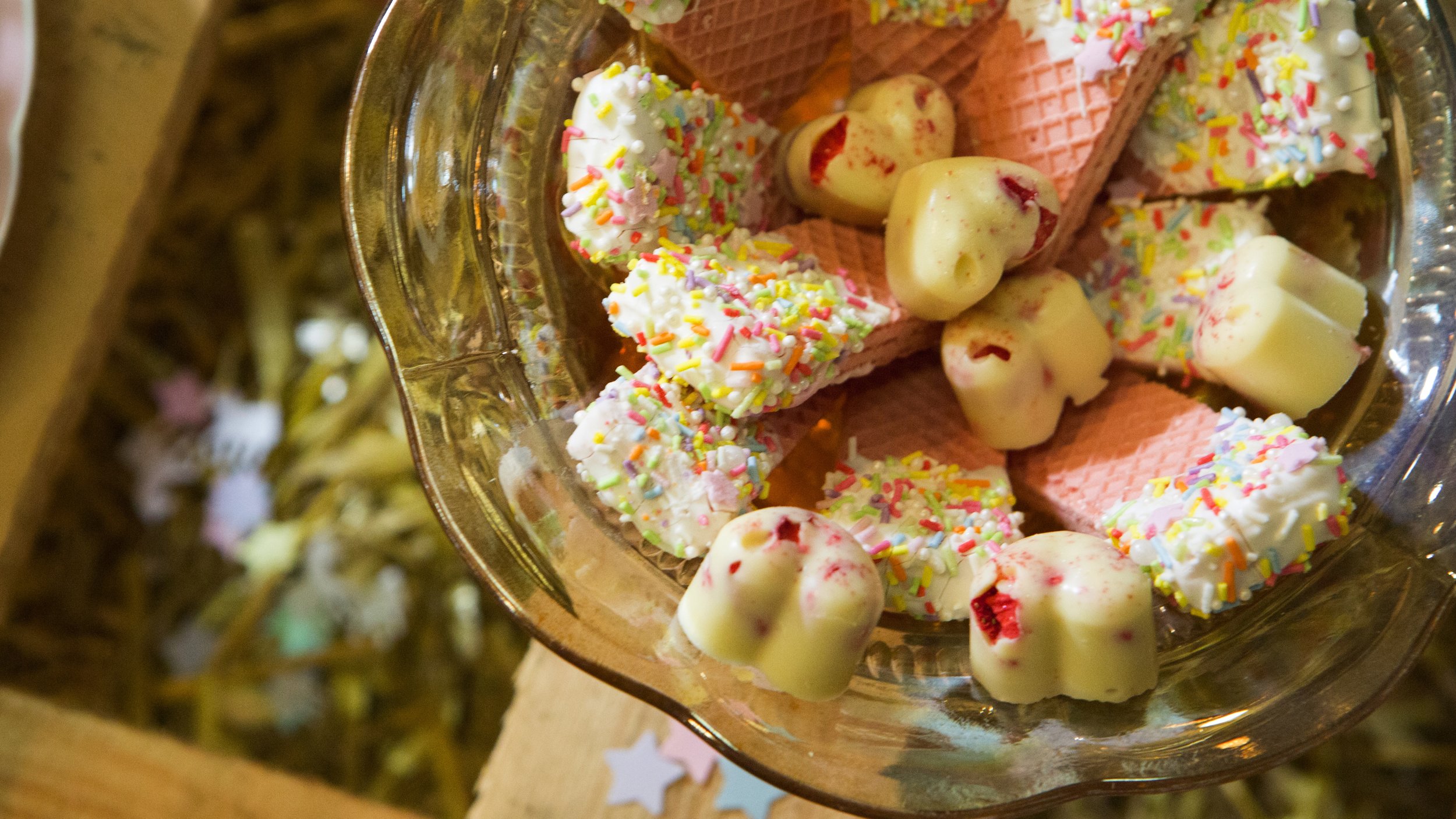 Candy towers, pick and mix and other sweet treats are hitting the wedding scene with success! Late night munchies must cater to the sweet tooth too- and what a way to have fun with colour. By picking your favourite childhood sweets or allowing your caterer to be creative with cakes and pastries, everyone will enjoy this bit of nostalgia and whimsy added to the evening. Made You Smile Chocolate Factory can make you the perfect colour filled favours so your guests can take home a tasty reminder of your day.
Go big or go home. On the big day all eyes are on the bride, so why not add colour directly to the focal point, YOU! For the bold bride hair and makeup can make a colourful statement. Make up by Hannah Edwards & Love Hair by Lou can knock your whole look up a notch by incorporating colour in tasteful ways you've never dreamed of.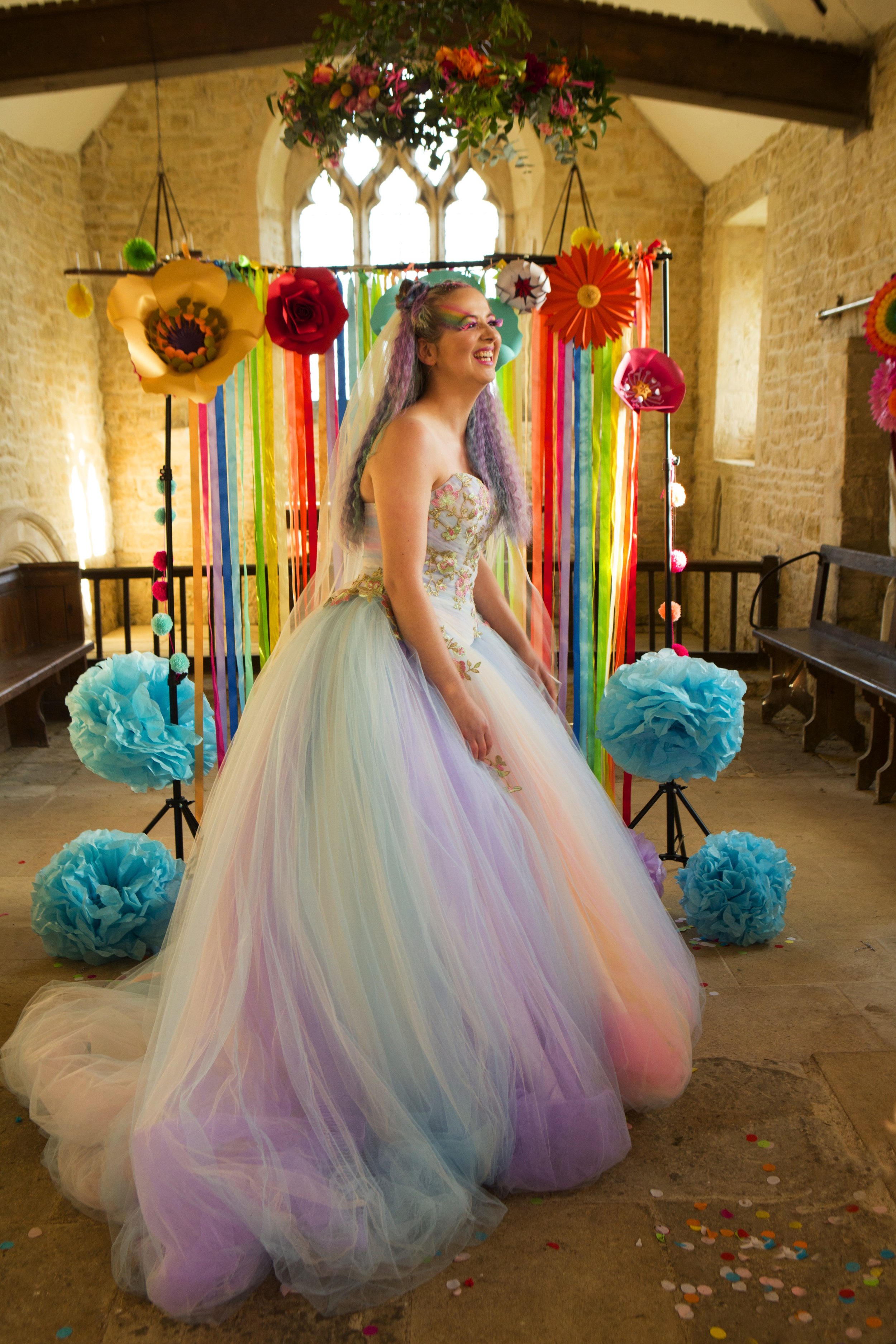 The white ball gown isn't for everyone. If you find yourself constantly looking for an alternative look with your dress, adding colour might be the touch you are looking for. This stunning gown from Kind Hearts and Coronets features subtle pastel tulle bodice gown with colourful embroidery, that adds colour without sacrificing the essential bridal look.
Well, hopefully you are feeling as inspired to bring colour into your wedding as I am! I know the ticket to making colour showcase your personality perfectly is to leave it in the hands of these local wedding suppliers! Thank you Dolly Dimples Weddings for reminding us of the beauty of the rainbow!
Local suppliers featured in this photo shoot are:
Design Concept & Venue Stylist ~ Dolly Dimples Weddings & Events
Shoot Location ~ Furtho Manor Farm
Photographer ~ Em J Photography
Videographer ~ Jay Anderson Photography
Hair Stylist ~ Love Hair by Lou
Make Up Artist ~ Make up by Hannah Edwards
Dress Designer ~ Kind Hearts and Coronets
Florist ~ Apple Blossom Flowers
Balloons ~ Balloon Girl Milton Keynes
Stationery ~ White Cottage Weddings
Cake Designer ~ The Cake Meister
Sweet favours ~ Made You Smile Chocolate Factory
Paper Flowers ~ Things by Laura
Large Initials and Tissue Pom Poms ~ The Wedding Spark