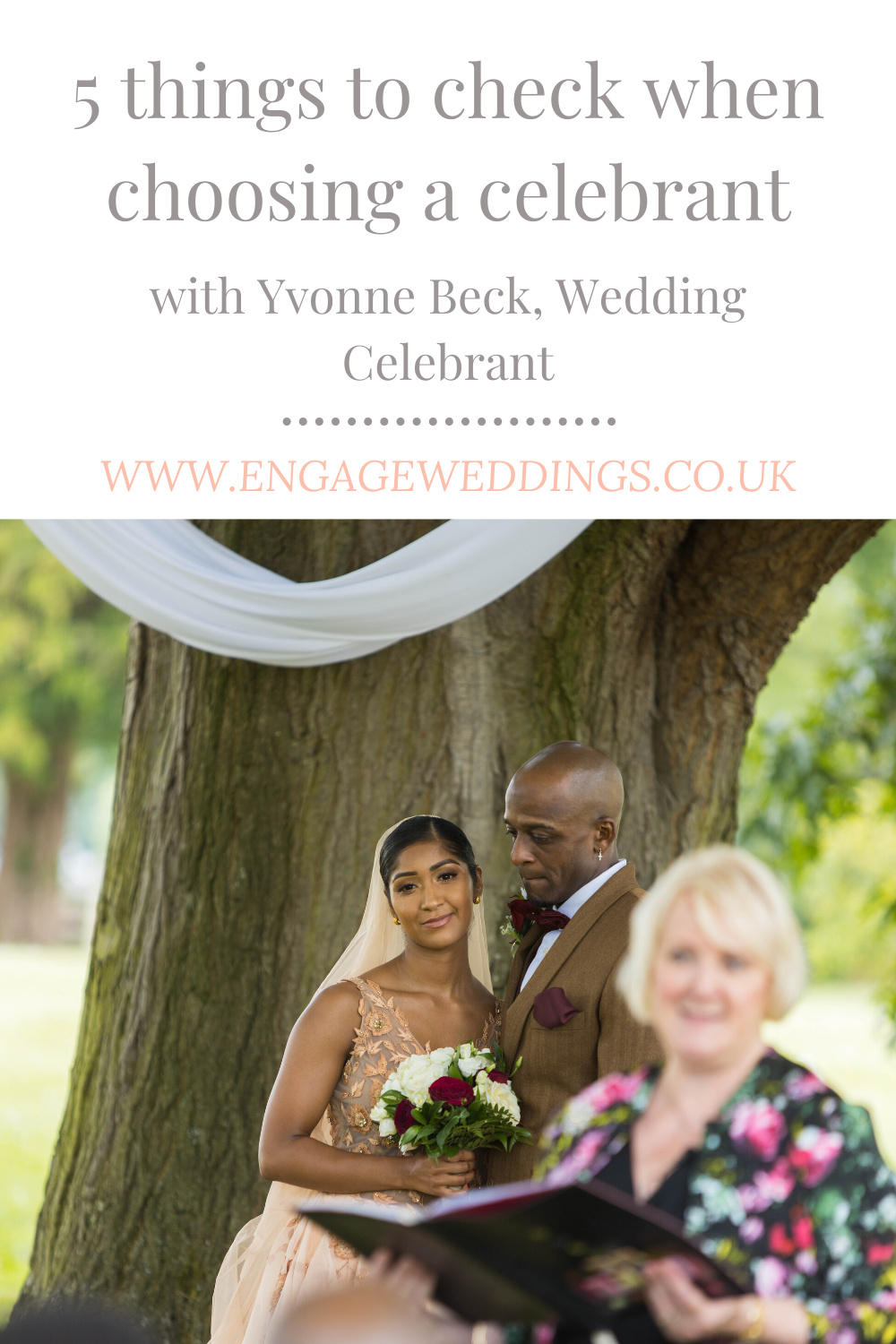 The biggest part of your wedding day is the ceremony, yet picking your celebrant can sometimes not be high on your suppliers list. Today we are joined by Yvonne Beck to discuss the 5 things you should check when choosing your celebrant.
As a major milestone in your life, your wedding will be at the top of your happiest memories list. As such, we want to make sure we mark them in our minds with a joyous, beauitful ceremony. In our current times most couples will choose a non-religious ceremony, over a traditional one.
Previously your only option would be a short civil ceremony at your town hall, or a licensed wedding venue, ensuring that you abide by the rules regarding content, music, readings and timing. The registry must be a solid construction with four walls and a ceiling, ruling out outdoor ceremonies. As no religious content is allowed, your registrar will want to vet your music, vows and readings beforehand. So, what options do you have if you want a ceremony that is less controlled, one that allows you to fill your day with your own ideas and style?
Hiring a celebrant is your perfect choice! Providing the freedom, innovation and flexibility you want for your wedding day, a celebrant can provide a truly unique ceremony for you, from a traditional affair to a Disney/Game of Thrones themed ceremony. Furthermore, you can include ancient rituals that you feel reflect your relationship, such as hand fasting or jumping the broom. Rose, sand and unity candle lighting ceremonies are often chosen, allowing you to include children if you wish. With a celebrant you can be assured you will have your dream ceremony.
With a celebrant you have the option to carry out the paperwork earlier in the week at the registry office with your two witnesses. This will be a fraction of the cost of having a registrar attend your venue, as such you can then relax and look forward to your wedding day. As your celebrant will be a large part of your wedding day ceremony, it is important that you find one that works for you and your partner. Here are a few tips on choosing your celebrant.
What kind of celebrant do you want?
You can choose between a Humanist or Independant/Civil celebrant. A Humanist celebrant will not allow any blessings, religious or spiritual content in your vows, readings or music. Whilst a Civil celebrant will be able to match all your wishes, and can happily advise on any spiritual or religious content.
Check your celebrant's credentials
Celebrants can get trained and accredited by a number of institutions and organisations, each offering ongoing support and training (keeping your celebrant up-to-date). Check that your celebrant has valid insurance – Professional Indemnity Insurance and Public liability being key! Read through their terms and conditions to ensure things such as a substitute celebrant are in place should there be any reason that they cannot attend your wedding day.
Meet up
Whilst you can wait untill your wedding day to meet, it is a great idea to meet up prior to your day. This will mean you can talk through your ideas, style and dreams for your ceremony, and ensure that you are on the same page. During the initial stage, meeting on Skype will help you narrow down your pick.
Ask for testimonials
Your chosen celebrant will be able to provide reviews and testimonials from other happy couples. As is best practice with all wedding suppliers, chekcing out reviews will help you to choose your celebrant.
Take their advice
Most celebrants are experienced and can offer some wonderful suggestions towards creative ideas, themes, choreography and rituals. Discussing different ceremonies can help you decide what will reflect your relationship best on your wedding day.
As a member of the Fellowship of Professional Celebrants Yvonne Beck can offer advice and suggestions for your wedding day. If you have questions relating to your upcoming wedding don't hesitate to contact Yvonne and discuss your day.