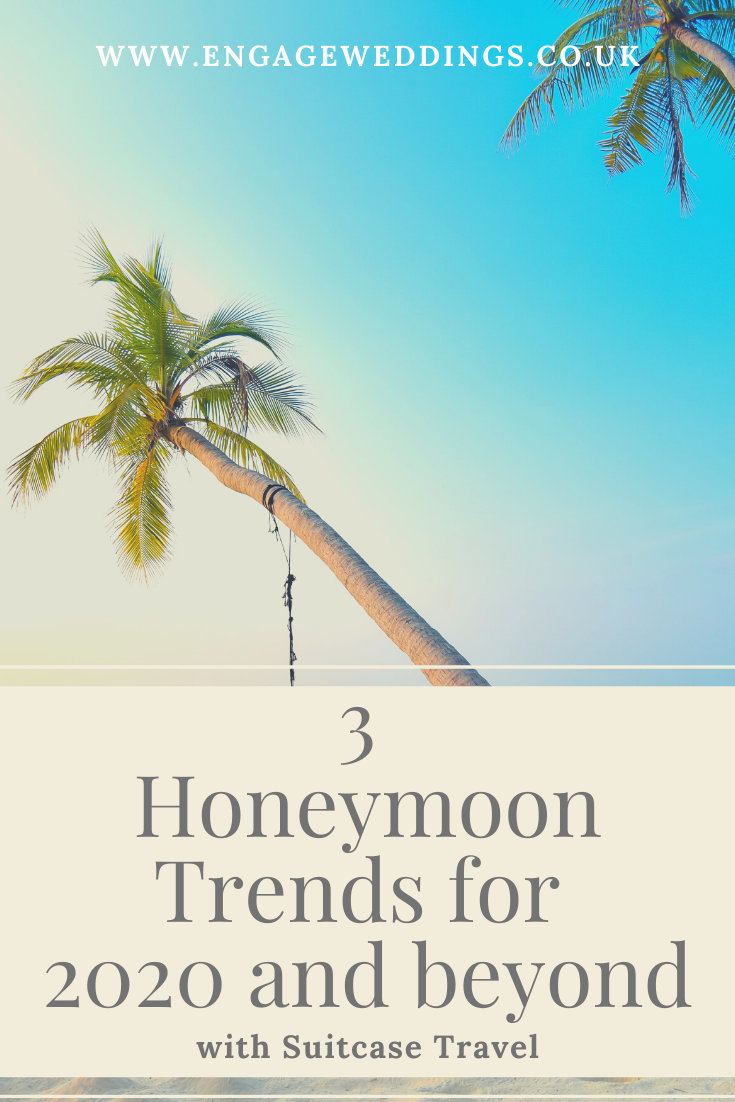 We have been talking about all the trends of 2020 over the last few weeks from the cake to the lighting. Today we are joined by Penny from Suitcase Travel as she shares the top three trends emerging in honeymoon choices for our brides to be.
Eco-friendly
I have seen a real trend growing amongst our customers in minimising the environmental impact of their holidays as much as possible. This trend has been even more popular with my honeymoon couples, which I have been loving organising these holidays for them.
Being environmentally friendly for your honeymoon by all means does not mean you have to compromise on the experience you will get as in fact it can often enhance it. Neither does it mean that you have to fork out a small fortune to stay only in the top, luxury hotels to achieve this aim. Being good to the environment starts with small things that actually make a big impact. I like to recommend hotels that do not use bottled water (or only have it if requested) and to have other reusable methods. For example, Blue Waters Resort & Spa in Antigua give each guest a complimentary water bottle with filter water stations throughout the whole resort and outside your rooms so that you can easily get chilled water without using loads of single use plastic bottles. My favourite part is that each bottle has your name on it, so there is no chance that someone will steal yours. Another hotel is the Iberostar in Cuba. When getting your cocktails from the bar, you can use your own water bottle to fill it up so you do not have to use the single-use plastic cups, plus you can stay on your sunbed for longer.
Another part of being good to the environment is to do with wildlife. When visiting places like Thailand, many honeymooners want to go to an elephant sanctuary but there are so many that claim to be good for these beautiful animals but are in fact mistreating them. We recommend a particular sanctuary that have a few around Thailand but we hands down recommend the amazing Elephant Hills. This is situated in the jungle in Khao Sok National Park and you stay in luxury glamping without the price tag. The elephants have all been rescued and are treated with the best care in the world. You can feed and wash them but certainly no riding them. We do actively tell our customers that elephants are not to be ridden at all and so do not support any travel companies that provide these activities at all.
These are just two small but easy to follow examples that we do to help with the environment. There are many more, which actually link up with some of my other trends for honeymoons in 2020.
Explore And Flop Honeymoons
Spending some time to relax by the beach to help recuperate from the wedding is still a key part of most of the honeymoons that I book, yet less couples are opting for this to be the only thing they do. I am doing a lot more of what I like to call 'Explore and Flop Honeymoons'. This simply means spending some time doing something other than the beach before ending the honeymoon to simply unwind.
A lot of these honeymoons involve different countries and I wrote a blog for Engage Weddings last year with our top selling itineraries that can be found here. However there are some destinations where you can do it all without having to leave the country. Two examples that are very different are the USA and Thailand. Both countries have areas that are so different meaning you can easily travel around and will gain new experiences at each stop. This makes it more exciting and you can see so much more. We also try to minimise the environmental impact by suggesting alternative ways to travel around rather than internal flights where possible. This might be by public transport for those that have an adventurous side to them or by hiring a car to get from each stop. This last one in fact leads onto our next trend for honeymoons.
Fly-Drive Honeymoons
A fly-drive honeymoon is simply where you fly to your destination and then drive around it to see as much as possible. You can be driving in a car and staying in hotels or you can even hire a motor-home and that can be your own romantic home for a while. I have seen a real rise in these for 2020 and the interest is still growing for 2021 as well. My couples seem to want to be seeing as much of the country they are visiting as possible but doing it at their own pace and doing the things they want to do. It really is a great way to travel and can be lots of fun. I also make sure your vehicle hire comes with a Sat Nav so there should not be any arguments that someone has read the map wrong!
Popular destinations to do this are the USA, Canada, South Africa, Australia and New Zealand. South Africa offers truly exceptional value and when you get there, you will be surprised at how affordable it is out there. I had a couple who went to one of the top bars in Cape Town where the rich and famous go for a celebratory cocktail and both cocktails came to less than £15 altogether. In the UK, you would be talking at least double for this kind of fancy place. It is the same when eating out. Not only this that makes South Africa appealing but you can also do a safari to see the Big 5 and twin it with Mauritius for the relaxing part if you want.
The USA remains my top selling destination for fly-drive honeymoons. The West Coast travelling down to Los Angeles and San Diego and often starting in Las Vegas is a great option. Driving in Florida is also another popular choice with a stay at Disney World also proving to be a hit. However, West Coast Canada is becoming more popular. The Rockies are breath-taking and the drives through here are like no other. A visit to Lake Louise is a must! It is totally serene and will take your breath away. You can then end the honeymoon in the city of Vancouver with all its cool bars and restaurants that you won't know where to try first!
Thank you for these great suggestions Penny, we love the idea of doing something different for your honeymoon.
.
Are any of these your dream honeymoon?